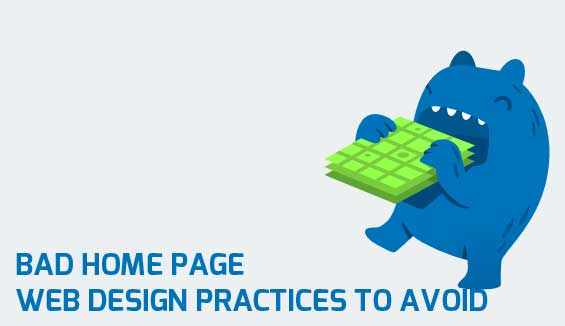 How to escape builds a bad homepage:
            Definitely a home page will see by the users so that home page is the entry page of your website. If the web designer is not well organized, the user does not stay long time. Suppose your website impressed by the users, the users never turn from your website. Here we can see the best practices; the visitors will not go from your website.
Do not welcome to the website users:
This is lack of originality of welcoming the users. All other websites are also doing the same thing. The designer should think the various ways, welcoming the users. You can welcomethem with a single message by saying how glad to meet you. It is the good idea of welcoming the visitors.
Do not use unreadable contents:
            Some fonts look like advanced to your website. The main objective is providing a message to the visitors that the contents should be comfortable as well as readable as the visitors.
Do not play music:
            Early years the internet web developer has tried to play music, but that was not successful in the websites. So web developer should aware about playing music.
Do not disarrange your website:
Many badges make the untidy look of your website. Sometimes you want to talk about awards and recognition badges that all kept on the "about us" page.
Do not shatter 'back' button:
            Usability is the basic elements on the website. In any critical situation, you do not shatter 'back' button.
Avoid difficult URL structures:
            Always choose simple as well as uncomplicated URL structures. URL structure will not improve your search engine rankings. The contents will easy read for the viewers.
Avoid grammatical mistakes:
            The web designer has the best knowledge about the language. Ensure the contents, links; texts do not contain spelling or grammatical mistakes.